Santa Is A Retired Salesman From New Jersey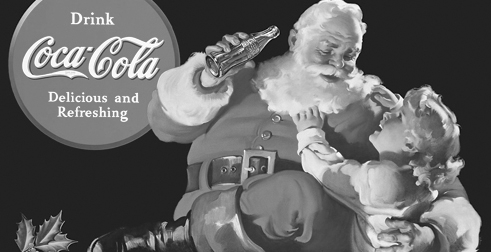 Effective holiday marketing means much more than tired gift card promotions and early-bird sales. Gimmicks might spur short-term gains with bargain shoppers but they don't build long-term relationships that will grow and sustain your business. Loyalty that lasts well after the ornaments are packed away comes from connecting with consumers emotionally. You don't do that with discounts. You do it by wrapping your brand in the whimsy, warmth and spirit of the season and making it an indelible part of people's holiday traditions.
Savvy brands have been subtly – and not so subtly – shaping secular Christmas mythology for decades. Many modern holiday motifs actually originated as seasonal marketing initiatives. Don't believe that brands have that kind of influence? You probably don't believe in Santa Claus, either. The following three case studies will change your mind – on both counts – and hopefully inspire you to make a little Christmas magic with your own brand.
$118 Million Worth Of Memories
Hallmark Keepsake Ornaments have become a Christmas tradition for millions of people since their debut in 1973. Beginning with a series of simple glass bulbs and yarn figures the collection has grown through the years to more than 3,000 unique designs with more than 100 themed series – including many based on popular licensed properties from sports teams to Peanuts to Disney to Star Wars.
Positioning their ornaments as "keepsakes" proved a shrewd marketing move by Hallmark that gave the line instant sentimental cache. Not surprising for a company whose very business model is based on sentiment. As the largest greeting card manufacturer in the U.S. Hallmark accounts for roughly 50 percent of all greeting cards sent annually in America with Christmas being the number one holiday in terms of sales.
Hallmark understood from the beginning that ornaments are more than mere decoration – they're the twinkling, shimmering embodiment of a family's holiday history. Industry data indicates the top five reasons consumers purchase and display ornaments are: 1) to commemorate a milestone, 2) to recall a special memory, 3) to represent a child or grandchild on the tree, 4) to one day pass along the ornaments as heirlooms, and 5) to express the individual's personality.
Create a brand that takes on that kind of significance in the lives of your customers and the world is yours to lose.
Want proof? Today, more than 31 million Americans collect Christmas ornaments – a phenomenon actually credited to Hallmark's Keepsake brand. The Hallmark Keepsake Ornament Collectors Club, founded in 1987, is the largest collectors club in the U.S. and one of the only collectors clubs completely managed and maintained by the company whose merchandise is being collected. Hallmark employs a dedicated staff focused on faithfully ensuring Keepsake Ornament brand integrity while marketing the club and product line year round. The average club member purchases 30 Keepsake Ornaments each year generating roughly $118 million annually in member sales alone.
Trivia Geek side note: As if that's not enough, you can thank the good folks at Hallmark for Christmas wrapping paper as well. During the peak holiday season in 1917 the still fledgling company ran out of solid-colored tissue gift dressing and improvised by selling decorated French envelope linings. Those proved so popular with consumers that founders J.C. and Rollie Hall decided to begin printing their own gift wrap and a modern tradition was born.
With such a magical history of holiday innovation it's no wonder consumers turn to Hallmark to create and commemorate their cherished memories. Few companies have as effectively woven their brand into the very fabric of family holiday tradition.
While Hallmark has capitalized on hearth and home our next case study is revving the engine on consumer fantasy. 
Dashing Through The Snow In A 350 Horsepower Sleigh
Imagine waking Christmas morning to discover a shiny new car adorned with a red bow parked in the driveway. It's an exhilarating fantasy – whether you're giving or receiving. That's what makes it such an alluring theme for luxury automaker Lexus' annual December to Remember holiday campaign which features fictional scenes of family members surprising loved ones with the gift of a new Lexus – always draped with a giant red bow.
"December to Remember has become a signal that the season is upon us," lauds David Nordstrom, Lexus vice president of marketing. Indeed, for nearly a decade the campaign has heralded the holidays while masterfully marrying the Lexus brand to the joyful gift giving exuberance of the season. Not only has the campaign itself become an institution, more significantly it's also spawned a uniquely Lexus-branded holiday tradition.
Nearly 10 percent of Lexus vehicles sold during the holidays are purchased as gifts and in response to consumer demand dealerships have for years provided big red bows that allow customers to experience the December to Remember fantasy in their own driveway. Though wrapping a new car in a bow and surprising someone on Christmas morning didn't originate with Lexus the brand has managed to inextricably associate itself with the joie de vivre of this universal holiday fantasy. The emotional equity gets mileage all year long.
Hallmark and Lexus each tapped into universal emotions to capitalize on classic Christmas themes and ended up sparking all new traditions. Our final case study is responsible for defining the quintessential holiday icon and putting the "pop" into the modern pop culture Christmas. 
Santa Is A Retired Salesman From New Jersey
In 1931 the marketing team with Atlanta-based Coca-Cola Company faced a perplexing problem. Coke was viewed as a seasonal product synonymous with sun and fun. For decades, sales of the saccharine soda swelled during the spring and summer but waned in the winter. The company desperately wanted to convince consumers that Coke was a cold weather drink as well. Over the years a variety of marketing campaigns had attempted to do just that by linking Coke to the most ubiquitous winter figure in popular culture – Santa Claus. Numerous campaigns had been launched but the creative never "clicked" and ensuing seasonal sales had remained flat.
Undaunted, the intrepid creative team mustered the marketing moxie to take another crack at a Coke/Claus campaign. One wonders how they sold the 7-time-loser of an idea to senior management… "Okay, we know this concept hasn't worked for the past seven years, but we have a really good feeling about this year." Actually, what they had was a fresh new spin on an old idea and they were given the green light. The eighth time would prove to be the charm.
Coca-Cola wasn't the first soft drink company to use Santa Claus in its advertising. White Rock Beverages of New York used Santa in ads for ginger ale and mineral water as early as 1915. In fact, advertisers had employed St. Nick as pitchman for years by portraying various global incarnations from wizened old sage to a magical troll. Coke's creative team sought to establish the definitive Santa archetype for their contemporary audience and turned to New Jersey-based illustrator Haddon Sundblom to conceive the Kringle for their new campaign.
Sundblom drew inspiration from traditional as well as unlikely sources. Clement Clark Moore's 1822 poem A Visit From St. Nicholas (commonly referred to as The Night Before Christmas) provided literary context while Sundblom's plump, jovial next door neighbor – a retired salesman named Lou Prentice – actually posed for the paintings. Hey, inspiration is everywhere if your imagination is in focus.
Sundblom's interpretation of the larger-than-life, grandfatherly "jolly old elf" – clad in Coca-Cola red and white – was a departure from many historical depictions and became an instant hit when introduced at the 1931 Macy's Thanksgiving Day Parade. Winter sales of Coke skyrocketed and something unexpected and profound began to take shape.
During the next 35 years the "Sundblom Santa" perfectly paired Coke and Christmas in annual holiday campaigns that defined the secular yuletide aesthetic. The die had been cast. Santa Claus was forever branded in the image of Coca-Cola – as well as a retired salesman from New Jersey – and a brand name soft drink was inextricably woven into the pop culture mythology of the world's most financially lucrative holiday.
The Gift That Keeps On Giving
In the words of newsman Francis Pharcellus Church, "Yes, Virginia, there is a Santa Claus." Not because of clever marketing, but because just as in 1897, when those words were written in response to a little girl's query, we long to believe in the holiday promise of, "love and generosity and devotion."
People cling to traditions for comfort and security, especially when they come wrapped in a holiday ribbon. Tie that ribbon around your brand and offer authentic emotional value – not the discount kind. Find a way to make your brand a treasured part of your customers holiday traditions and they'll form lasting bonds that just might make every day seem like Christmas for your business.
Amidst all the marketing, don't forget the true spirit of the season. Whether your celebration is secular or religious, Christmas is about peace on Earth and good will toward men. Put a big red bow on that and park it in people's driveways.

___
Ken Peters is Co-founding Partner and Creative Director of Nocturnal Branding Studio, a full-service branding and design agency located in Phoenix, AZ. He's been known to design for everyone from Silicon Valley giants to start-up cat toy manufacturers. His work has garnered him everything from a host of awards to a grateful kiss on the cheek. He also makes a mean teriyaki chicken dish, but it hasn't earned any awards. To talk to Ken email him at: ken@nocturnaldesign.com
©Nocturnal Studio