Rock's Ultimate Design Icon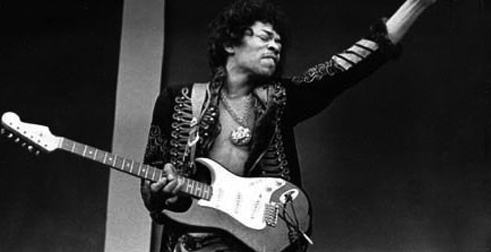 By Ken Peters
The Fender Stratocaster is rock & roll's ultimate guitar – and a design icon. Materializing in 1954 as if teleported from the future, the Strat's curvy contours, cutaway fins and sultry vibrato perfectly synthesized rock & roll sex appeal with Cold War futurism.
With its sensuous silhouette and bombshell bundle of innovations the Strat became the weapon of choice for guitar slingers, rebels, revolutionaries and rock & roll's architects. Every cultural and musical movement for nearly 60 years has been colored by its versatile tonal palette.
It gave voice to Buddy Holly as he pined for "Peggy Sue", and to the Beatles when they yelled for "Help". When Dylan went electric, he plugged into a Strat. Pink Floyd flew us to the "Dark Side of the Moon". Aerosmith taught us to "Walk This Way". Nirvana told us to "Nevermind". And, in perhaps the purest sonic expression ever rendered, Jimi Hendrix turned everything upside down with his blistering interpretation of "The Star Spangled Banner".
Right now, in a bar, in a garage, on a stage, somewhere, somebody is plugged into – and pouring their heart out of – a Strat. As long as there's a story to tell rock & roll will never die, and neither will its signature instrument.
Leo Fender set out to design a better guitar; lighter, contoured, more comfortable to play. By focusing on the end user he crafted a masterpiece – born of its time, yet timelessly transcending genre, fad and fashion. Though perhaps the most copied, customized, modified and tinkered-with guitar in history, no one has improved its purity. Yet, anyone who plays a Strat makes it indelibly their own.
Such is the beauty and brilliance of great design; inspiring self-expression, empowering people to realize their fullest potential. Fender does it with musical instruments. Craftsman does it with tools. Apple does it with some of the finest technology in the world, while LEGO does it with simple, interlocking, plastic bricks. How is your brand doing it?
Doesn't matter if you're manufacturing musical instruments or medical instruments, operating a residential cleaning service or a catering company, you can build a brand that opens windows to possibilities and provides the tools that make them attainable. Take a lesson from Leo; begin with the user experience, design outward and the results will resonate with consumers.

Coda

Recently, I took my six-year-old son to buy his first "real" guitar. For months he'd scrimped and saved his allowance, birthday money, and every penny that came his way. Tempted by toys and other goodies, he kept his eye on the prize, never spending a single cent of his stash.
When the big day came, I drove him to the music store (we were so proud of him for saving so diligently that we decided we'd buy the guitar for him and chalk it up as an early Christmas present). Faced with a vivid array of dazzling guitars in every color and configuration, he remained uncompromising, selecting a kid-size replica of the classic Stratocaster, in jet black.
"Why did you choose that one," I asked him. "Because it just looks so cool," he answered, without skipping a beat. "It rocks." And so does he.
Rock on.
___
Ken Peters is Co-founding Partner and Creative Director of Nocturnal Branding Studio, a full-service branding and design agency located in Phoenix, AZ. He's been known to design for everyone from Silicon Valley giants to start-up cat toy manufacturers. His work has garnered him everything from a host of awards to a grateful kiss on the cheek. He also makes a mean teriyaki chicken dish, but it hasn't earned any awards. To talk to Ken email him at: ken@nocturnaldesign.com
©Nocturnal Studio