What Do Designers Do?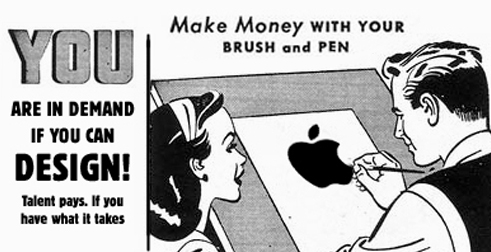 "What do designers do?" That question was recently posed to me in a letter from a California high school senior. He'd seen my work, researched who had done it, and took the initiative to reach out because he wanted to learn what it means to be a designer in today's world. He impressed me, and he got me thinking.
It's a great question – with an answer that's surprisingly difficult to put into perspective. Even Einstein's General Relativity can be parsed into 10 words… the geometry of spacetime is influenced by the matter present. But design and branding, that's complicated.
Design touches every aspect of our lives, from the products we use to the spaces we occupy. Everything is designed. Yet, within many executive suite boardrooms the role of design and branding in business remains largely misunderstood, or dismissed as a decorative afterthought. That's an obsolete way of thinking, but simply saying they don't get it is a cop out. Designers must better articulate the value they provide.
Sometimes, we forget why we do what we do, or what made us do it in the first place. Other times, we're so tuned in to doing it that we don't realize others might not fully understand what it's about. Our solicitous student prompted me to look with fresh eyes, and see design with renewed focus, and for that I'm grateful.
Crafting my response was an affirming exercise that resulted in a sort of personal design declaration. Before I could write back, though, one of the gals who cleans our studio accidentally threw away the original letter with the return address (okay, it was still my fault, I'd left it near a pile of papers to be recycled). Hopefully its author will find this post. My reply would have gone something like this…
Designers deal in ideas. They give shape to ideas that shape our world, enrich everyday experiences, and improve our lives. Where there's confusion, designers fashion clarity; where there's chaos, designers construct order; where there's entropy, designers promote vitality; where there's indifference, designers swell passion; where there's mediocrity, designers imbue excellence; and where there's silence, designers lend voice.
Every organization has something to say, designers help them say it to the world. Design can start murmurs that become roars, which spark debates that open eyes and ignite passions, which inspire ideas that reveal possibilities to the hearts and minds of all who see them. You don't do that by barking, "better, faster, cheaper." You do it by revealing the soul of the organization – the brand.
Businesses sell products and services, but people buy brands. Brands they believe in. Brands with conviction, that stand for something, and embody a belief and a purpose. Brands that are equal parts inspirational and aspirational. Brands that make the ordinary extraordinary. Brands that make them feel awesome – by offering connections to something greater.
Making those connections means starting with the human experience – understanding how design impacts lives – and designing outward. It involves painstakingly researching the target audience, meticulously analyzing the data, diligently studying the details, thoughtfully considering the facts, thoroughly weighing the options, and very often ignoring it all to design what your gut tells you will work best. What will best connect, inspire, elicit, excite, provoke and ultimately, persuade.
After all, it's not rocket science, it's persuasion, and persuasion is an art. Skill and craft must be learned, but they'll only take you so far without constant curiosity, boundless imagination and uncommon creativity. None of that comes bundled with the latest design software. Imagination begins in the mind, not in a computer – technology doesn't make up for lack of talent or tenacity.
Creativity is the new corporate currency, and imagination is the price of admission. Not everybody knows a good idea when they see it though, and sometimes, bad decisions happen to good design. Avoiding those means designers must do double duty as business coaches, cheerleaders, confidantes, or psychotherapists… whatever it takes. Sure, it's challenging, but it's not hard work. Hard work is what the Marines do. Keep it in perspective.
A good portion of that challenging work involves designing tangible things like logos, collateral, publications, packaging, products, advertising, environments, signage, digital interfaces, web sites, and a great many other things across every kind of media. They serve as touchpoints and beacons within a broader brand narrative.
Scripting that narrative requires a mix of method and madness, icons and symbols, colors and materials, photography and illustration, typography and messaging, sounds and scents, processes and experiences, form and function. These brand vocabularies are designed to engage people, inspire dialogue and serve as compasses, guiding consumers through a crowded market.
Consumers aren't the only audience. Designers invigorate organizations with strategic thinking, creative collaboration and imaginative design that provide a competitive advantage and stretch the possibilities of what a business can be. That's how design helps great businesses become successful brands. Brands that foster innovation, stimulate commerce, create jobs and wealth, and fuel the engine that drives society forward.
Design luminary Paul Rand once proclaimed, "Design is more of a calling than a career." He was right. Bringing ideas to life in ways that touch and can be touched is challenging and rewarding. Each project offers exciting new possibilities and avenues of discovery. Those possibilities are only as limited as your imagination and creativity. That's why in the end, there's no boring design, only boring designers.
We're fortunate to live in times where success is increasingly determined by the quality and value of our ideas – and our ability to implement them. After all, the value of any idea is only realized if implemented. That's why designers are invaluable. As Twain touted, "You've got to admire men that deal in ideas."
If you're creative, if you can collaborate and still think independently, if you have enough confidence to believe in yourself when no one else does, if you can recognize a need and see an opportunity, and are willing to embrace the responsibility and become the solution, then you have what it takes to play a pivotal role in implementing ideas that shape the future. Follow your bliss, find your calling and do all the good that you can with the gifts that you have.
___
Ken Peters is Co-founding Partner and Creative Director of Nocturnal Branding Studio, a full-service branding and design agency located in Phoenix, AZ. He's been known to design for everyone from Silicon Valley giants to start-up cat toy manufacturers. His work has garnered him everything from a host of awards to a grateful kiss on the cheek. He also makes a mean teriyaki chicken dish, but it hasn't earned any awards. To talk to Ken email him at:ken@nocturnaldesign.com
©Nocturnal Studio