It's The Customer Service, Stupid.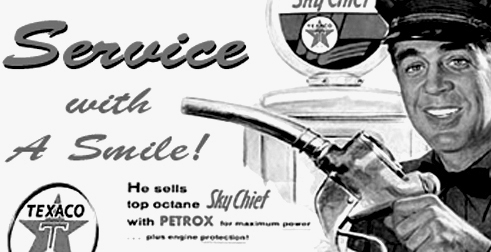 By Ken Peters

Good customer service is always good business, but in an economy where greater competition for fewer dollars is fierce, it becomes an issue of survival. Modern consumers are savvy, discerning, demanding and presented with more options than ever before. Getting them to care about your brand requires first showing that your brand cares about them.
Used to be that a tank of gas came with a window wash, a tire inspection and an oil check from a well-mannered attendant in a neat bow tie and cap whose job it was to put the "service" in service station. Consumers enjoyed clean-cut convenience and the comfort of worry-free motoring – topped off with a wave and a wink to the kids. That's understanding your customer, anticipating their needs and crafting a well-designed branded experience that puts them first.

A BRAND THAT TRULY PUTS THE CUSTOMER FIRST STANDS OUT AND STANDS TO WIN.
Modern consumers demand even more, yet typically get less. Today, inattentive store clerks, snarky cashiers, pushy salespeople, boorish restaurant servers, difficult return policies, annoying restocking fees and lengthy on-hold times seem to be the rule rather than the exception within many branded experiences. Faced with competition like that a brand that truly puts the customer first stands out and stands to win. When you encounter one, it's worth mentioning.
Recently, I witnessed an example of truly exceptional customer service in one of the last places you might expect… a fast food drive-thru. This particular purveyor of super-sized service was burger chain, Wendy's. I pulled in for a quick bite between client meetings and found myself idling behind a woman attempting to purchase lunch with her credit card. Twice the card was declined and twice she snapped at the cashier to try it again.
Her anxiety was palpable. Under normal circumstances having your credit card declined is embarrassing and frightening. In the current economy the stigma and fear are heightened. After a lengthy wait, the manager – who clearly understood the emotional minefield he was walking into – appeared at the window to gingerly inform his customer that her card had indeed been rejected. Visibly upset, she snatched her card back and prepared to drive off without her order when something almost amazing happened…
"Ma'am," the manager said. "I don't want you to have a bad day. Lunch is on me."
Under-whelmed? Then you're missing the point. It's about a lot more than just a free lunch. With that effortless act of genuine kindness the manager transformed a miserable life experience for his customer into a profoundly positive Wendy's brand experience that she'll probably never forget.

He stepped beyond the business transaction to communicate that he cared – that Wendy's cared – about her as a person, not merely as a consumer. He could have just as easily gone the other way and asked for an alternate form of payment or even refused to give her the order. Instead, he made the right call and he nailed it.
Those 14 simple words transcended customer service: "Ma'am," he was respectful. "I don't want you to have a bad day," he was empathetic and kind. "Lunch is on me," he was generous.
No judgment. No ridicule. Rather, respect and understanding that afforded the customer her dignity in what could have been a humiliating situation. It was the perfect example of the neighborly, service-driven philosophy embodied for decades in the amiable advertising persona of late Wendy's founder and TV pitchman, Dave Thomas. When is the last time you had a consumer experience where you were shown genuine respect, empathy, kindness and generosity in a single act of customer service – by any brand?

YOUR PRODUCTS AND SERVICES ONLY MATTER WHEN CONSUMERS DECIDE YOUR BRAND MATTERS.
Business boils down to people. Your products and services only matter when consumers decide your brand matters. Our Wendy's manager understood that. Perhaps Wendy's as a corporation understands it as well, because customer service like that must be woven into the fabric of your corporate culture.
Great customer service is driven from the top. Senior management must be committed to not only championing service as a strategy, but also making it a proactive feature of the organization's DNA. Service must not be an afterthought. If it begins when a customer complains, it's too little, too late.

Service is a starting point. Understanding how to best serve your consumers begins with analyzing the customer experience and working outward from there to anticipate their needs across every touchpoint to solve problems before they arise. That's the only way to design a positive brand experience.
When service is at the core of your brand your employees must be empowered to solve problems to make customers happy. Empowered employees feel the organization values their participation. They feel you are more committed to their success. The result is that they are more engaged, they work harder, provide better service and positively reflect your brand. Imbuing employees with the authority to make service-oriented decisions requires ongoing training to keep pace with the evolving needs of consumers.

PROVIDING EMPLOYEES WITH THE SKILLS TO SUCCEED IS AN INVESTMENT IN THE SUPERIOR BRANDED EXPERIENCE FOR WHICH CONSUMERS WILL PAY A PREMIUM.

Training costs money, but employees are already your largest investment. On average, an employee costs the organization double their salary when benefits, vacation, sick time and other factors are considered. Make the most of your human resources and invest in service training. The extra expense is made up in happier more involved employees, lower turnover and satisfied customers. Providing employees with the skills to succeed is an investment in the superior branded experience for which consumers will pay a premium.
Wendy's provides such employee training via their People Excellence program, an incentive-based system that rewards quality service. That training clearly benefited their manager, which in turn benefited their customer, which ultimately benefits Wendy's bottom line.
Consumers can purchase products and services anywhere, but they'll pay a premium for the value of quality service and a positive branded experience. That's why whatever your business – regardless of size or industry – quality customer service is critical. Take a cue from our friends at Wendy's who are clearly getting it right. Restaurant guide publisher, Zagat, recently named the Ohio-based company top fast food chain. Wendy's rated No. 1 overall in separate rankings of food, facilities and yes… customer service. I'm not surprised.

___
Ken Peters is Co-founding Partner and Creative Director of Nocturnal Branding Studio, a full-service branding and design agency located in Phoenix, AZ. He's been known to design for everyone from Silicon Valley giants to start-up cat toy manufacturers. His work has garnered him everything from a host of awards to a grateful kiss on the cheek. He also makes a mean teriyaki chicken dish, but it hasn't earned any awards. To talk to Ken email him at: ken@nocturnaldesign.com
©Nocturnal Studio